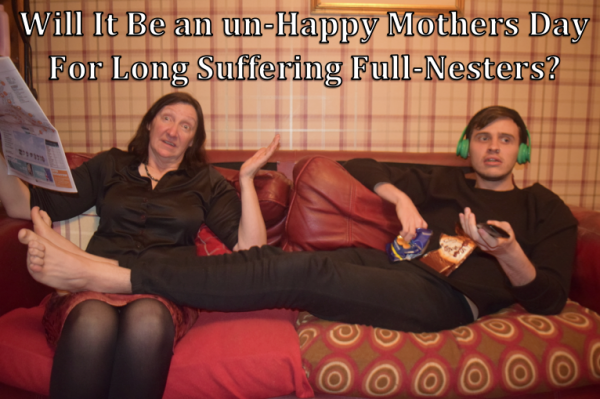 Property portal TheHouseShop.com have conducted a YouGov survey to find out at what age people think that children should move out of the family home and strike out on their own. Soaring house prices and increasingly unaffordable rents, coupled with low wages for the under 30s, have resulted in more and more grown-up children staying in the family home well into their twenties, and beyond.
Despite the fact that over 80% of GB adults believe that a person should permanently leave the family home by latest age 25, recent ONS analysis of Labour Force Survey statistics show a staggering 3.3million 20-34 year olds still living at home. The latest ONS figures for 2015 show a record high of 40% of 24 year olds still living at home with their parents – the highest percentage since records began in 1996.
On top of this, research by the Centre for Modern Families think tank shows an estimated 2.7million "full-nester" households in the UK with 1 or more adult children living at home.
Full-nester parents are starting to feel the strain on their finances too, as 62% admit to financially supporting their adult children, on top of providing free room and board, with 32% conceding that they don't expect to recoup any of the money spent supporting their "failed fledglings".
Results of the YouGov survey run by TheHouseShop.com show a significant difference of opinion across the United Kingdom when it comes to kicking out the kids. People in London were most forgiving of late leavers, with 25% believing it is acceptable for children to move out between the ages of 26-34. Respondents in Wales and Scotland were far less likely to accept children moving out at this late stage in their lives, with 12.5% and 14.5% respectively.
Welsh respondents were by far the toughest when it came to giving children an early push to fly the nest, with 41.25% believing kids should move out by age 21, compared to 28.9% of Scottish respondents and 29% of Londoners.
TheHouseShop.com's Franki Chaffin-Edwards spoke to three mothers with adult children in their twenties still living at home, to discover the unfortunate reality of having a full-nest long after you hoped to be fledgling-free.
Elizabeth Cox is 59 and lives in Kingston with her husband Rob and their 22 year old son Tom, who has been back in the family home for 2 years after failing to secure a home of his own after university. Tom's living situation is not uncommon and he is part of the growing 'boomerang generation' who have flown the nest briefly, only to return to the family home within a few years – usually after finishing university.
Elizabeth conceded that when her children were growing up, she had assumed that they would have flown the nest by this point in their lives, saying:
"We thought they'd both be out when they were in their early twenties or post-graduation, particularly after already experiencing living away from home at university."
But unfortunately, expectation has not matched reality all these years later. When asked about the downsides of having adult children still in the home Liz commented:
"Unfortunately there's a constant need to nag: to pick up discarded clothes/trainers/wet towels. It also means having to buy more food and paying more for gas, electric and other bills."
"Really the main downside is the lack of privacy – for both us and him. I'm sure he'd rather have his own place to host parties and have friends round. It will be good when Tom is able to get his own place. It will enable him to grow and hopefully let him find his own way in life. We're not pushing him out, but we're certain he doesn't want to live with us forever either."
Jenny Sanderson and her husband Jeremy are in a similar situation, with their 25 year old daughter still living at home in East London. When asked about how this had effected their lifestyle, Jenny commented:
"I must admit, when our daughter was in her teenage years we could see that she was desperate to escape us, so naturally we had assumed that she would be long gone by the time she reached her twenties. But unfortunately, the sad reality of London house prices has crippled her ability to strike out on her own."
"We had hoped that by this point in our lives – both myself and my husband are in our early sixties – we would be enjoying more time to ourselves and living our lives according to our own rules. We had planned to sell our current 4 bed flat and downsize to a smaller 2 bed in the suburbs, freeing up money to go travelling and splash out a bit on the things we enjoy, but we feel too guilty knowing that our daughter would struggle to get by if we did."
Diana Roberts, whose 27 year old son and 28 year old daughter are still living in their family home in Kent, offered her thoughts on the pros and cons of having her grown-up kids at home this Mother's Day:
"I sometimes struggle to reconcile my feelings about the kids – or adults should I say – still living at home. On the one hand I feel really lucky to see them both so frequently and enjoy a more mature relationship with them, but on the other hand I worry that they've become so comfortable living with me that they will never move out on their own!"
"It's always harder to assert yourself with the people you're closest to and having conversations about our living situation – mutually acceptable behaviour, financial contributions, house rules etc. – can be an emotional process. I try to be tough and push them to save money and plan ahead, but when I put myself in their shoes it does all seem a bit hopeless. Both my children have paid full-time jobs, yet neither can afford to move out. Sadly, I think this is the depressing reality for many families at the moment."
All of the mothers we spoke to were pleased that their kids would be at home this Mother's Day, but the other 364 days of the year are a different matter. With house prices and rents predicted to rise even further, and a significant lack of supply putting even more pressure on an already fragile housing market, long suffering mums won't catch a break anytime soon.
Find Property for Sale in London and the Surrounding Area: