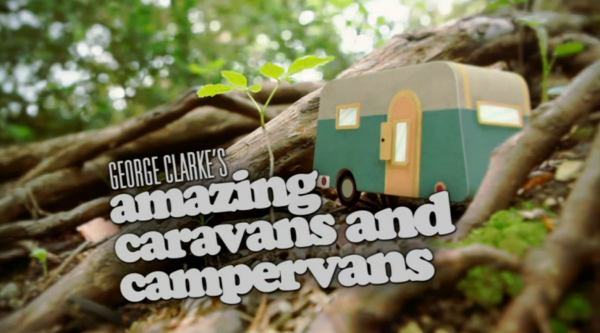 George Clarke's Amazing Spaces- Campervans and Caravans
Caravaning. When my dad was a kid, he used to go on caravanning holidays with his parents. They went at any given opportunity- school holidays, easter and even over Christmas. I've heard countless tales about these adventures, and about how my Dad, and all the other children, would have to wash up for entire campsites after Christmas dinner, and how they were forced to participate in The Caravan Club's annual Christmas play. I've heard about how a family of four, plus a naughty labrador, would all squeeze into a tiny caravan and set off for the weekend. Although my Dad never subjected me to such trips (thankfully), these holidays gave them countless memories and life long friends; for this generation, the caravan will always be looked upon fondly, like a two-wheeled symbol of a simpler time.
Well, the second instalment of George Clarke's Amazing Spaces focuses on incredible caravans and campervans, and it seems that George is just as much of a fan of mobile homes as my grandparents were, as we see him and the Amazing Spaces team renovate his very own 1970s caravan. But first, we get to have a look at some of the most interesting and extraordinary mobile designs around.
It's astounding at just how many people you can fit into a small space. In 2012, 28 people managed to fit into a Mini, which broke a world record. Thats pretty impressive. What is equally impressive, is managing to comfortably fit a family of six, plus a dog, into a small mobile home. In 2013, Jay and Jonathan wanted a campervan for the whole family, but, on a whim brought affectionally named 'Bertie', an old, decrepit ambulance from the 1960s.
Saving 'Bertie' from the scrapheap for £2,800, they transformed him into the cutest, most stylish campervan you could ever see. With storage built into the bottom of the van, going right into the well, space is hardly an issue. The dining area has more hidden storage, and also doubles up as a sleeping area for the kids. The kitchen area also doubles up as a double bed for mum and dad, meaning that Bertie has room to accommodate the entire family. Or, if Jay and Jonathan are ever lucky enough to escape for a romantic weekend, then the whole dining area can be made to create a spacious king-sized bed!!
If you think of what would make a perfect garden, chances are that an outbuilding would feature on the list. But, why would you bother building an ordinary shed, or garden house, when you can save all the hassle and put in a super-rad caravan in? This is exactly what Bernard did in his Oxfordshire home, when he installed his disco-themed caravan. With the aluminium exterior and interior, the mobile nightclub resembles a retro disco ball, reflecting light and colour everywhere, setting the party scene. With storage hiding cocktail glasses, shot glasses and a plethora of alcoholic beverages, this is definitely a caravan I would certainly not mind staying in.
Think of the coolest ways to travel. There's fast cars. Motorbikes. Scooters. There's also some pretty cool boats out there. But for me, the most exciting way to travel is by Tuk Tuk. Last year, I visited Bangkok, Thailand, and would travel everywhere by Tuk Tuk- they let you take in the most amazing sights and experience the mental Thai traffic, whilst also breathing in some of the world's finest smog. Given the choice, I would happily travel everywhere by Tuk Tuk. This is exactly what Cambridge based David must've thought when he built his very own Tuk Tuk caravan for himself and his two sons to stay in on adventurous weekends away. Constructing the incredibly innovative design out of his 1960s scooter, dedicating six months of his life and £12,000 to the project, his hard work most certainly paid off. Although the sleeping arrangements may be quite snug, David had created more space by having a cooker pull out from underneath the mobile home, which makes it both practical and stylish.
The animal kingdom is wonderful. There are specimens that are beautiful and majestic, like the African Elephant and the the Bengal Tiger. Then, there are some some specimens that are just downright weird looking, like the Naked Mole Rat. But, the weirdest specimens are often found underwater- have you ever seen a Blowfish? Another weird looking fish is a Tropical Boxfish, which, as the name suggests, is rectangular in shape, much like a caravan. Well, Kentish couple, Barry and Della, saw this resemblance and decided to design their caravan on a Tropical Boxfish- because why not? Having originally purchased an old caravan for just £250, they completely stripped it and began to rebuild it. But when the storms of 2014 hit, all of their hard work got destroyed, leaving the couple back at square one again. Not letting this set back deter them, they carried on with the project until completion, setting them back £3,000. And it seems that all of their hard-work was worth while; the caravan is distinctively stylish inside and out, although the interior is a lot more toned down than the leopard print exterior with a subtle nautical theme.
Upcycling and Recycling is all the rage right now. It's a cheaper alternative to buying something brand new, and more than often you have a one-off unique piece that nobody else has, which obviously gives you the 'cool factor'. When Carwyn and his wife from Aberystwyth had their fourth child, they were strapped for cash and needed a well earned summer holiday. Rather than spend the money on a small get-away for all the family, Carwyn decided something that they could use again and again would be more sensible, and so brought a £120 trailer. From this, he built his family their very own caravan which is made exclusively from second hand and salvaged materials, creating something that is uber-cool. With 3,000 old CDs on the side, a floor made from old vinyl records and even a toilet made from recycled mobile phones, the caravan is undoubtedly unique and environment friendly- it even has a composting toilet! In total, Carwyn spent £600 on materials. Total cost of caravan= £720, memories made= priceless.
When you think of caravans, it's hard not to think of American trailers. Across the pond they have an entire subculture that has been born out of mobile and static homes, known by many as 'trailer trash', the US equivalent of chavs. But, despite the common connotations to trailers, Amazing Spaces proves that US trailers can be stylish, too. George and Will travel to a Texan range, where they see an original Spartan Trailer that has been made unique in true Amazing Space style. The trailer has been enclosed by a solid structure, making it the perfect field station to look over the desert landscape and watch the local wildlife- or as Americans probably do, shoot the local wildlife.
It wouldn't be Amazing Spaces without George Clarke making his own design. Turns out, just like my Dad, George used to go on caravanning trips, too- something that he wishes to pass on to his kids. Back in 2012, George brought a dilapidated 1970s caravan for just £300, which is just as dreary as you'd expect, with a dated interior, rotting walls and unreliable roof. Despite the fact that the caravan is far from inspiring, George manages to get right-hand man Will Hardie on board to help renovate the retro van.
With how neglected the caravan was, it is unsurprising that the whole thing needed rebuilding. Although this may have been time consuming and costly, with the whole renovation costing an impressive £38,000, it was most definitely worth it. The caravan itself opens up to the outside, providing the perfect outdoor kitchen area for the occasional sunny day in England. Thankfully, there is even a log burner inside for the more frequent rainy days. Further to this, the indoor seating area has a hidden bathtub and a hidden wardrobe, bunk-bed style sleeping area for the kids and a double bedroom for Mr Clarke, which also opens up to the outside- fancy. All in all, the caravan is the perfect 21st century caravanning retreat for the modern family.
To catch up on George Clarke's Amazing Spaces, do so here.