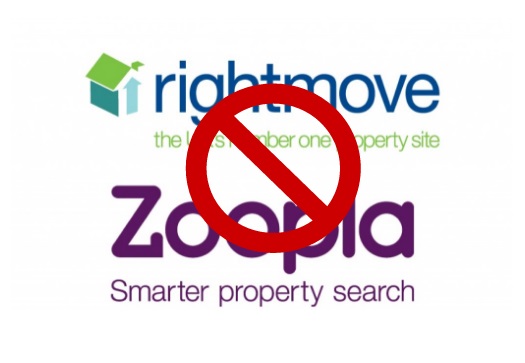 Most high-street estate agents will have an account with at least one of the UK's well-known property portals Rightmove and Zoopla and with hundreds of people viewing the same property on these websites each day, vendors find that they can make quick sales. This is frustrating for the buyer as it results in listings being taken down and quickly being replaced in a flash, leaving unlucky buyers stuck at square one again.
So TheHouseShop.com decided to investigate the ways to find estate agents by going off the beaten track, that buyers can use when house hunting and some of them will definitely surprise you!
Online
Many people have heard of Rightmove and Zoopla however, there are many other smaller websites that corner the UK's property market, from online estate agents, property portals and for sale by owner (FSBO) sites. Buyers can lose out on many potential homes if they restrict themselves to only searching on the big two.
TheHouseShop.com is the UK's no. 1 property marketplace, working with private sellers, private landlords, online agents, High Street agents and some of the UK's largest property developers to buy, sell, rent and let property online.
TheHouseShop.com offers free property advertising for private landlords and has helped thousands of landlords find tenants for free and save money on essential services, such as tenant referencing, landlord insurance, rent guarantees and more.
Unlike other agent-only portals, TheHouseShop.com offers buyers and tenants a comprehensive selection of properties to rent and to buy with both private and agency listings. With a host of additional products and services covering all parts of the property sector, TheHouseShop.com is emerging as the leading one-stop property marketplace for both professionals and consumers.

Onthemarket.com
This is the newest property portal on the block, created by a dissident group of high-street estate agents, frustrated with the prices Rightmove and Zoopla charged them to list their properties online. Although they got off to a shaky start, buyers can now browse estate agents that aren't on Rightmove and Zoopla. However, estate agents currently listing on this site are also offered the chance to also list on either Zoopla and Rightmove's website if they want to, but many choose not to due to the cost.
With this in mind, it is much easier to find a property using TheHouseShop.com as the UK's Number 1 property marketplace, not only can private sellers list their properties (which they are unable to do on Rightmove or Zoopla), but smaller online estate agents can also list their properties too.
For other smaller property websites and online estate agents check out: such as Tepilo, Yopa, Housesimple, PrimeLocation and Sellmyhome.
Watersideproperties.com
This is the main website in the UK dedicated to waterside property listings for both sales and lets. If you are looking for a home with a coastal view, by a marina, a river or a lake, this website should be your main port of call – pun intended. Not only does watersideproperties.com list residential property located near water, but they also deal in moorings, commercial property and event boats. Now you can search for your dream water-adjacent home in one easy move!
For those that are particularly interested in a canal-side property then you can also check out canalcuttings.co.uk, where vendors can list their canal-side property themselves.
Unmodlondon.co.uk
If you are looking for a new home in the capital, this website is a great example of the many online estate agents that specialise in properties that are in need of re-development. Unmodlondon.co.uk only caters to a specific area within South West London however, there are many other properties in need of work available nationwide on unmodernised.com.
UK Land Directory
Some people prefer the idea of buying a plot of land and then building their dream home on it, as opposed to buying an existing home. Rightmove and Zoopla won't have the huge selection that is available on The UK Land Directory website and they will state whether there is planning permission already in place. One other key feature of using this website is unlike other websites that advertise plots of land for sale, you can browse for free.
Offline
Also, there are off-line alternative methods that buyers shouldn't overlook when they are in the midst of house hunting:
Badger local high street estate agents – treat your house hunt like you would a job hunt and sign up with some local estate agents and don't forget to contact them frequently, so they know you're serious about your search.
Leafleting – it can't hurt to leaflet your chosen neighbourhood with flyers letting residents know that you are looking to buy, often people can get ahead of the crowds by approaching a vendor directly.
Hire a Buyers Agent – they will fast track your search in the local property market and take ownership of the chasing with estate agents on your behalf.
Read your local property paper – many vendors still prefer the old-fashioned route of advertising their homes for sale, so it is always worth scouring your local paper for leads. Vendors favour this option in comparison to listing their property on Rightmove and Zoopla because these sites allow the neighbours to snoop on their homes and see how much they are asking for them.
Ask family and friends – by utilising your social network, you can find vendors looking to sell their homes before they have even contacted an estate agent or listed them online. Bear in mind that properties are often sold before their listing goes live on Rightmove and Zoopla too.
Check out For Sale Boards – keep an eye out in your dream area for 'For Sale' boards and make a note of the estate agents on any 'sold' boards too, as these are a good indicator as to which ones are successful in the area.
Use the agent who sold your house – if you felt that your agent was really professional and did a great job, it makes sense to consider using them again when it comes to looking for a new home.
With Rightmove and Zoopla, the buyer has access to the mainstream selection of property available to purchase in the UK. It is definitely worth considering these other methods when looking for a new home, as you may be surprised with what you might find and the successes that can be had when you start to look elsewhere.